Entasher.com and Traffic media cover the media coverage of launching the lightest OLED laptop in the world (ASUS ZenBook 13 OLED)
✽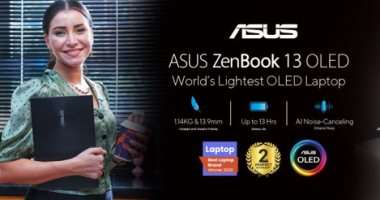 ASUS launched their new laptop Zenbook 13 OLED in collaboration with Egyptian actress Sara el shamy in Egypt. This laptop is the lightest OLED laptop in the world. The new Zenbook 13 OLED takes 49 minutes to charge up to 60% and has a battery life of around 22 hours. The OLED screen is also the most harmless computer screen available, reducing the exposure to radiation by up to 70%.
While launching the new laptop in Egypt entasher.com collaborated with traffic media to provide online media coverage for the launching. This media coverage included digital content creation as well as a Public Relations campaign.
In the digital content creation part, several articles were written about the launching of the new Zenbook 13 OLED. Meanwhile, for the PR campaign, the articles were distributed to online news websites for publication, thus resulting in several news websites like Sada el Balad, Youm7, and Alwafd publishing news articles.
To view the news articles written about the launching of the new ASUS ZenBook 13 OLED visit the following links:
SadaEl balad : https://www.elbalad.news/4980063
Al ahram : https://gate.ahram.org.eg/News/2962547.aspx
Alwafd : https://alwafd.news/article/3911645

More Articles