Should i go for mobile app or website
✽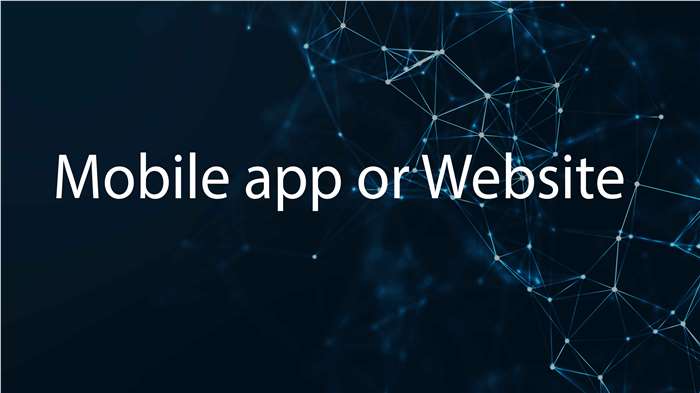 Site or Application?
A Mobile responsive website VS Mobile Application - which is better for your business?
Tough call, right? Like we always say, the digital world is vast enough to swallow those looking
for answers. But, rest assured- because today we break it down for you so that you make the best
decision for your business. Deciding whether it's best to invest in a mobile application or a
mobile responsive website depends on what you need to achieve. Whether you are looking for
brand availability or brand engagement, both options serve your objectives differently. We listed
down the advantages for both to help you decide which one to go for in your next mobilefriendly
strategy.

Advantages of Mobile application

Like many other digital channels, mobile applications give users a more in-depth experience of
what your brand offers. Let's talk you through some advantages of having a mobile application.

Consistent brand presence

Having a mobile application allows you to be constantly present on a user's devices. On top of
their mind, the mobile application is associated with your brand name and image. The
application icon on their mobile acts as a permanent billboard advertisement for your brand. All
of which serve your brand quite well.

24/7 access to users

Unlike other channels, mobile applications are always there. While users may not access them all
the time, you have consistent access to their devices. So it doesn't depend on whether or not they
type in your URL on the browser to check you out; you're already always there.

Personalization

Nowadays, smart marketing is all about personalization. Users only engage when the messages
speak directly towards their behaviors, intents, and interests. Application analytics enables you to
tailor your content based on audience demographics, behaviors, and interests.

A direct marketing channel with built-in mobile features

Promoting your products and services has never been easier through a mobile application.
Through a mobile app, you can entice users and communicate your promotions and different
aspects of your products/services in many creative ways.
Improving user-experience is paramount when it comes to digital efforts. Having a mobile
application is how you maintain an improved customer journey. Below are just a few features
that allow you to communicate with your audience seamlessly.
• Push notifications
• Tap-to-call/email
• Device vibration/ alerts
• Camera
• Instant and automatic updates

Mobile websites

Just like having a business address, a website is an essential step for establishing a business. The
question being, is it enough?
To help you find that out, we listed a few advantages of having a website.

Availability for all devices

On the other, investing in a website gives you broader access to a vast number of users. Because
it doesn't require mobile space or a specific software version, your website is available to an
unlimited number of users.

Cost- effective

Since mobile applications are developed differently for various platforms, it is most likely to be
costly. However, based on how complex your website is, a website can be a lot more costeffective
than a mobile application.

Less demanding

Owning a website offers you a simplified way to update, edit, and publish your content. A
website is a lot more dynamic and less demanding than a mobile application. Unlike mobile
applications, you will need to upgrade versions and ask users to download.

SEO Opportunities

Another reason to invest in a website is that websites are found easily on search engine results
and industry-specific directories. Having a website gives you the chance to compete for visibility
on search engines and become one of the most prominent brands on search engine results.
Feeling overwhelmed and can't make up your mind?
To help you make the right decision, we suggest that you consult a digital marketing agency.
If you made up your mind already, you can contact the best digital marketing agencies from
Entasher and land the best offers.
More Articles