NEOM Partners with Entasher.com to Find Verified Service Providers in Saudi Arabia
✽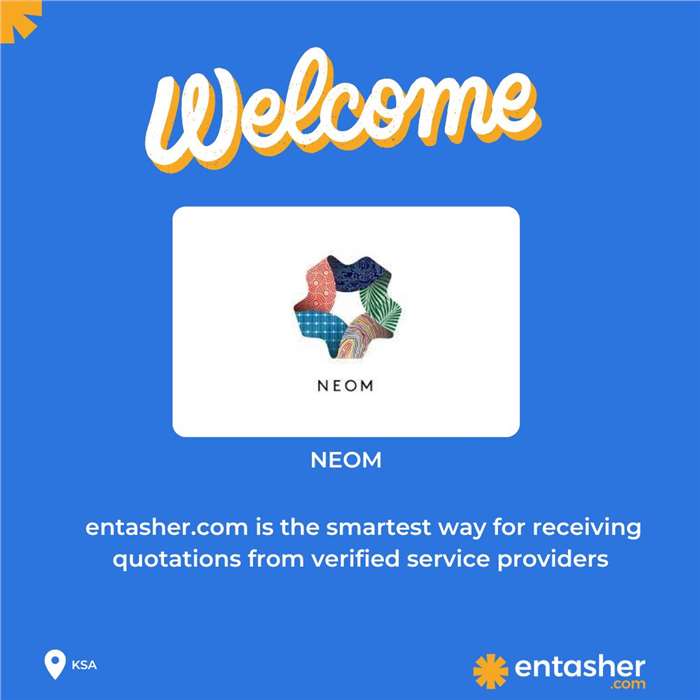 NEOM, the futuristic city being built in the northwest of Saudi Arabia, is now using Entasher.com to find verified service providers in KSA.
NEOM, which will be powered by advanced disruptive technology, renewable energy, and a circular economy, is investing USD 500 billion from the Public Investment Fund of the Kingdom of Saudi to create a community of free-thinkers, entrepreneurs and innovators. NEOM is a special economic zone, with 13% of global trade passing through the Red Sea and a flight time of just 6 hours from 40% of the world. With its innovative work across multiple sectors, NEOM will not only diversify the Kingdom's economy but also offer solutions that other parts of the world can benefit from. The first region for visitors is set to open in 2024.
NEOM's commitment to innovation and sustainability makes it a perfect partner for Entasher.com, a leading online platform for finding verified service providers in Media, Advertising, Marketing agencies, software houses, events management companies, marketing research companies, and brand activation. By using Entasher.com, NEOM can find the right service providers to help them achieve their business goals.
One of the key benefits of Entasher.com is its ability to provide verified service providers. This ensures that NEOM will be working with the best service providers in KSA, which will help them achieve their ambitious goals in sectors like manufacturing, water, digital technology, entertainment and culture, education, design and construction, food, energy, sports, tourism, mobility, health and biotech, financial services, and media.
Moreover, Entasher.com's innovative features, such as its marketplace for giveaways, software, and the biggest billboards prime locations marketplace, will enable NEOM to reach a wider audience and effectively promote their products and services. Additionally, the "receive offers" feature of Entasher.com will allow NEOM to receive quotations from top verified service providers, ensuring that they receive the best deals and quotations in the industry.
As NEOM prepares to open its doors to visitors in 2024, this partnership with Entasher.com will provide the city with a competitive edge in the market. The platform's commitment to customer satisfaction and ability to provide verified service providers will ensure that NEOM continues to thrive and succeed in its mission to create a better future and address global challenges.
In conclusion, the partnership between NEOM and Entasher.com is a testament to the power of innovation and collaboration. As NEOM continues to build a community of free-thinkers, entrepreneurs, and innovators, Entasher.com will be there every step of the way to help them achieve their business goals and drive sustainable growth.
More Articles